About both the founders
Miriam Levy-Stenzel
Diplom-certified translator (German, English, Spanish)
Miriam Levy-Stenzel has been working as a freelance translator and negotiation interpreter for over 10 years. She completed her translation studies at Heidelberg University (Germany), earning a Diplom degree. Miriam also built up a significant amount of experience abroad through numerous stays during her studies and as a foreign language instructor in Australia, Colombia, Spain, and the United States.
She is a member of the German Federal Association of Interpreters and Translators (BDÜ), as well as a member and senator of Junior Chamber International (JCI). In addition, Miriam taught for several years in the English department of the Institute of Translation and Interpreting at Heidelberg University and remains in direct contact with the field of teaching.
In the realm of translation, Miriam's areas of expertise include medicine, pharmaceuticals, art, marketing, and sports. She is also a valuable asset when it comes to organizing and carrying out events involving the use of interpreters, including in acquiring corresponding equipment.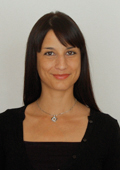 Nadia Soufi
Diplom-certified translator (French, German, English)
Before the foundation of X-LS, Nadia Soufi gained several years of professional experience in working as a freelance translator and negotiation interpreter. She also organized and coordinated hostess and service teams at numerous international exhibitions and events. In her academic career, Nadia completed her studies of business at the University of Burgundy in Dijon (France) and the University of Manchester (England). She earned her Diplom degree in translation from FASK Germersheim (a faculty of the University of Mainz, Germany).
Nadia's translation experience thus far has included assignments from clients such as SAP SE, Siemens AG, Aareon (France and AG), and the European Central Bank in Frankfurt am Main (Germany). She specializes in areas such as business, IT, marketing, the food industry, sports, and culture.
After amassing 10 years of experience in SAP translation, project management, and quality assurance, Nadia entered a corresponding SAP certification program in 2009. She then became an SAP instructor for subjects regarding the company's translation tool (SE63) in Paris, where she trained prospective SAP translation specialists for three years. Thanks to her extensive knowledge of technical translation and software localization, Nadia is an excellent person to consult about planning and implementing large-scale multilingual projects. Nadia is right at home in both France and Germany and can provide on-site assistance in both countries.